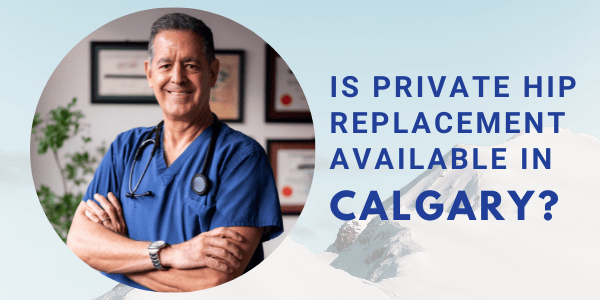 We get many phone calls and email inquiries from Canadians in Calgary searching for a private hip replacement. Even though Canadian healthcare system is "free", access to care, especially to elective surgeries can be challenging in many provinces. It is not unusual to wait to see an orthopedic surgeon for 6-12 months, and then another 6-18 months for the actual surgery.
If you are located in Alberta, there are private hip replacement options available in Canada and the US. Health Vantis works with excellent private facilities in a different province or just across the border in the US. We will walk you through the entire process, from your first phone call till you are back home, in recovery. There is no wait time. We usually can arrange a private hip replacement within 4-8 weeks, depending on your schedule.
Traveling for medical reasons can be complicated. Sometimes we get asked why someone would hire us, instead of doing everything on their own. The answer is simple.  With us, you do not wait any longer and you get peace of mind that your journey goes smooth, and no details are overlooked. We will take care of it all, so you can focus on your health.
Honesty and trust are our top values. If you do a simple google search, you will find other companies that offer similar services, but without transparency. Ask the important question of how they get paid and you will quickly find out that you may be overcharged for your private hip replacement. Our fees are straightforward and simple because our clients deserve the best. We act in their best interest, while others may choose to hide honest answers.
To find out what options are available to you in your private hip replacement in Calgary, please email us info@healthvantis.com or give us a call toll-free 877 344 3544.
https://ekgxh4okxj4.exactdn.com/wp-content/uploads/2021/12/Is-private-hip-replacement-available-in.png?strip=all&lossy=1&ssl=1
300
600
Health Vantis
https://ekgxh4okxj4.exactdn.com/wp-content/uploads/2016/12/healthvantis-logo.png
Health Vantis
2022-01-05 12:02:33
2022-01-05 12:02:33
Is Private Hip Replacement Available in Calgary?