Carson MacLeod – Private Hip Replacement
Recent Health Vantis Client
We had the pleasure of meeting and helping a wonderful gentleman named Carson MacLeod from Truro, NS a few months back.  He came to us in need of a timely hip replacement surgery.  
Up until 3 years ago, this healthy and fit 78 year old was still playing hockey and able to do all of his normal day to day things. The pain in his hip got so severe, he could no longer do them.  After a trip to the doctor, it was confirmed he needed to have a hip replacement.  Unfortunately, there was a lengthy wait to have this done.
When he realized he would not be getting his hip replacement in Canada any time soon, he decided the pain was severe enough that he could not wait.  He spent a great deal of time researching his options on having the surgery done privately in the US.  A facility in Boston proved to be challenging to get an actual quote on the cost.  His daughter came across our website site and suggested he call us.  
We had the perfect doctor in mind for him.  He was quickly given a surgery date and his trip accommodations were booked.  He traveled to the US at the end of June 2019 and had his surgery on July 1st.
The most amazing part of Carson's story is that this hip replacement was done on an out-patient basis and he was up and walking within a couple hours after his surgery.  This would have been unheard of 5 years ago, especially for someone in their 70's.  Most doctors are still doing joint (or hip) replacements on an in-patient procedure.  While not everyone is a candidate to have a hip replacement on an out patient basis, the benefit is that it allows for a quicker recovery time and less chance of developing an infection while in the hospital.  
Carson had a walker for 2 days, was able to have a cane by the third day and was fit to travel back home only 4 short days after his surgery.  It is remarkable how well he has continued to do since then.  He has reported that he never felt better and has not had any hip pain whatsoever since his surgery.
If you would like the same result, please give Health Vantis a call at 877-344-3544.
Watch Carson speak about his experiences here.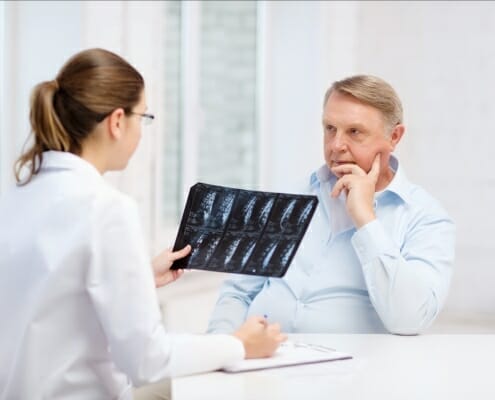 The Value of a Second Opinion
Two years ago I had a L5 S1 spinal back fusion.  After 20+ years of treatment for a herniated disc, my options on pain control were exhausted.  The cortisone injections, facet joint blocks and rhizotomies were no longer working.  The only option I had left was to have a back fusion.  This is a major back surgery and one many doctors avoid at all costs until it is absolutely necessary.  
My Spinal Orthopedic Surgeon gave me a plan on how the surgery would work. I decided to get a second opinion due to the nature of the surgery.  I took my records to a Neurosurgeon.  He reviewed them, did a physical exam and while he did agree I needed the fusion, he offered another approach to doing the surgery.
The original surgery was to include 2 incisions on my back cutting through muscle, 4 screws and an in-patient hospital stay.  My second opinion offered a procedure called an ALIF (Anterior Lumbar Interbody Fusion), where they went through my belly, did not need to cut through muscle, 2 vs 4 screws and could be done on an out patient basis, making the recovery time so much easier and quicker.  
I can happily report, I went with my second opinion and had an excellent result.  Could I have had the same result with the other suggested technique?  Most likely, however, I would have had 2 additional screws, which were ultimately not needed, 2 incisions and they would have cut through my muscle creating more recovery time.  This would have been on an in-patient basis thus increasing the risk of infection.  
The value of a second opinion is to give you more information so that you can make the most educated decision about your health. It is not to discount the original doctor's opinion, but instead to consider his recommendation with others that may be available.  In my situation, this was a major surgery.  I wanted to make sure I was doing the right thing and that there were no other options available to me.  But there can be numerous other reasons why someone might want to have a second opinion:
The doctor says there is nothing else they can do for you
You didn't feel the doctor listened to your concerns
You are looking for an alternative treatment or other options
You want to confirm the diagnosis and/or treatment plan
Peace of mind you are doing the right thing

 

You want to know if there is newer technology or an advanced, easier or safer method to the approach your surgery has been recommended be done.
If you would like to have a second opinion and are not sure how to go about it, please contact us and we'd be happy to help!  info@healthvantis.com, 877-344-3544
Flying South for the Winter?
 

Combine Your Trip with Private Surgery

Fall is here and this is the time of the year that the Snowbirds start making their plans to travel south for the winter.  If you've considered having a surgery done privately, this would be a great time to start planning it.  

What are the Benefits?:
You can recover in the comfort of your own home.

 

While recovery can be done in a hotel, there is nothing better than your own bed.

 

Plus, you save the expense of a hotel room!
The ability to follow up with the surgeon who did your surgery.

 

Most people who travel for surgery will stay on average 5-7 days and then return to Canada.

 

Your doctor in Canada is able to do your follow up visits and the surgeon in the US can continue to follow you via phone, email and/or Skype.

 

However, being local and having the ability to do your follow ups in person is more optimal.
There is less risk since you do not need to fly home right away.

 

The doctor would not release you to fly home unless he was confident you were fit to do so.

 

However, flying after surgery does present risk.

 

If you combine your surgery with an already planned trip to stay for a couple of months, that risk element is removed.

 

You are already familiar with the area.

 

Traveling to another country to have surgery can be overwhelming, especially if you are unfamiliar with the area.

 

If you have the surgery in your winter destination, chances are you will already know your way around.
Avoid the delays and wait times in Canada.

 

Most facilities in the US can accommodate you within a couple of weeks time.
By coming to the US, you may have access to treatment for procedures or surgeries that are not available in Canada.

 

There are many things unavailable to Canadians that are available in the US.

 

This would be an optimal time to explore alternative options.
There is convenience of already being in the area so you avoid an additional trip and expense.

 

If you combine your south of the border winter trip with a surgery, you will save money by not making a separate trip to do so.
Contact Health Vantis to connect you to an already vetted, safe and affordable facility in the area you are traveling.  We take the guess work out of finding the appropriate surgeon for your needs.
https://ekgxh4okxj4.exactdn.com/wp-content/uploads/2019/10/c8fcc99f-58df-4096-9437-77c2b839f476-e1570030003582.jpg?strip=all&lossy=1&ssl=1
667
500
Health Vantis
https://ekgxh4okxj4.exactdn.com/wp-content/uploads/2016/12/healthvantis-logo.png
Health Vantis
2019-10-07 12:01:50
2019-10-07 12:01:50
October 2019 Newsletter